The new Art Forum Baloise Park opened with a show of Thomas Schütte in the fall of 2020. Following his presentation, «Édouard Vuillard. In the Louvre –Paintings for a Basel Villa» is the first exhibition not to draw directly on the Baloise art collection, but is closely connected to the site on which Baloise was to open its new headquarters in 1983 at 21 Aeschengraben (now Baloise Park Nord).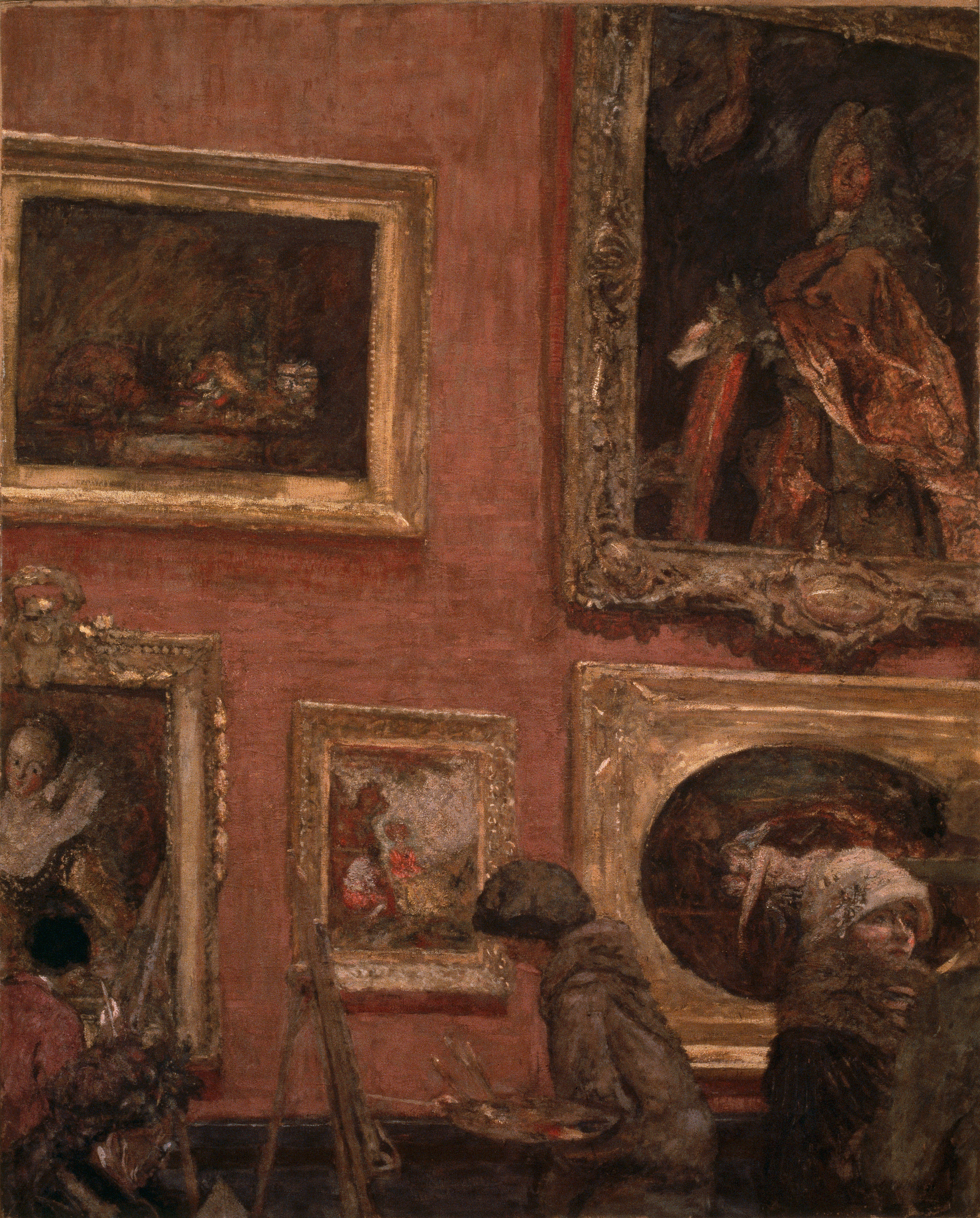 Paintings for a Basel Villa
Édouard Vuillard (1868–1940), who, alongside his friends Pierre Bonnard and Félix Vallotton, was among the most audacious precursors of the avantgarde in fin-de-siècle Paris, is closely connected to the villa set in the park at 21 Aeschengraben. After the First World War, the villa had passed into the hands of the Basel entrepreneur, Camille Bauer and his wife, Maria Bauer-Judlin of Colmar. The Bauers' extensive remodeling of the late neoclassical villa culminated in the installation of the cycle of paintings that they commissioned Vuillard to paint for the vestibule in 1921–22. The four wall paintings showing interior views of galleries in the Louvre and in the Musée des Arts Décoratifs in Paris read like a panorama of the development of art through the millennia from Antiquity to French Rococopainting. The two overdoors or sopraporte turn the spotlight on the artist's own art collection.

Édouard Vuillard's Au Louvre cycle is remarkable as much for its outstanding artistic quality as for the richness of its content. Yet neither scholars nor the art-loving public has paid it more than scant attention to date. Art Forum Baloise Park is proud to be furthering the rediscovery of this unique cycle of paintings a century after its creation. The exhibition is accompanied by a publication published by Hirmer.
Guided tours through the exhibition, at 12:30 pm:

Tuesday 7.12.21 with Thomas Lochman, Curator Permanent Collection, Antikenmuseum Basel;
Tuesday 18.1.22 with Martin Schwander, Curator and fine art advisor for Baloise.
Please register: isabelle.guggenheim@baloise.com
Art Forum Baloise Park
Aeschengraben 33, Basel
18.9.2021 – 28.1.2022
Opening Hours: Monday – Friday, 10 am – 6 pm
Extraordinary Openings: Saturday/Sunday, 18./19.9.2021, 10 am – 6 pm
Opening reception: Wednesday, 22.9.2021, 6 – 10 pm

Opening reception and COVID-19:
We want to protect our visitors and our staff. The special situation means that we also have to respond to the current requirements of the FOPH (Federal Office of Public Health) in advance - the collection of personal data is part of these requirements, thank you very much for your understanding. You can register here already in advance.

Access to the opening at Art Forum Baloise Park will only be granted to registered persons who have been fully vaccinated against COVID-19, have a recent negative COVID-19 test, or have fully recovered from COVID-19. Individuals under the age of 16 are exempt from this requirement.