Luxembourg, May 30, 2016. In the presence of numerous representatives from politics, business and culture, the Baloise Group presented MUDAM, Musée d'Art Moderne, Luxembourg with a group of works by Beatrice Gibson. The britsh artist is the winner of the 17th Baloise Art Prize, which had been awarded to her by the Baloise Group last year on the occasion of Art Basel 2015. The representatives of the British Government were happy about the appreciation of Beatrice Gibson and congratulated her on winning the Baloise Art Prize.
Since 1999, the Baloise Group has been honouring two young artists per year with the Art Prize. The prize of CHF 30'000 is awarded by an international jury of renowned experts. In addition, the Baloise Group acquires a group of works by the award winners and donates them to two important museums. in Europe: the MMK, Museum für Moderne Kunst, Frankfurt a.M. and the MUDAM, Musée d'Art Moderne, Luxembourg. The works of Mathieu Kleyebe Abonnenc will be presented to the MMK Frankfurt in a few months.
The Baloise gift intention has always been to museums in Europe - in particular in countries of the business units. By having sold the company in Austria, an important aspect of the Baloise art commitment falled away - the business presence with their own company in the country of the recipient museum. Therefore the Baloise is presenting - again for some years – art works to the MUDAM, Luxembourg. Baloise donated Solo for Rich Man and The Tiger's Mind to MUDAM: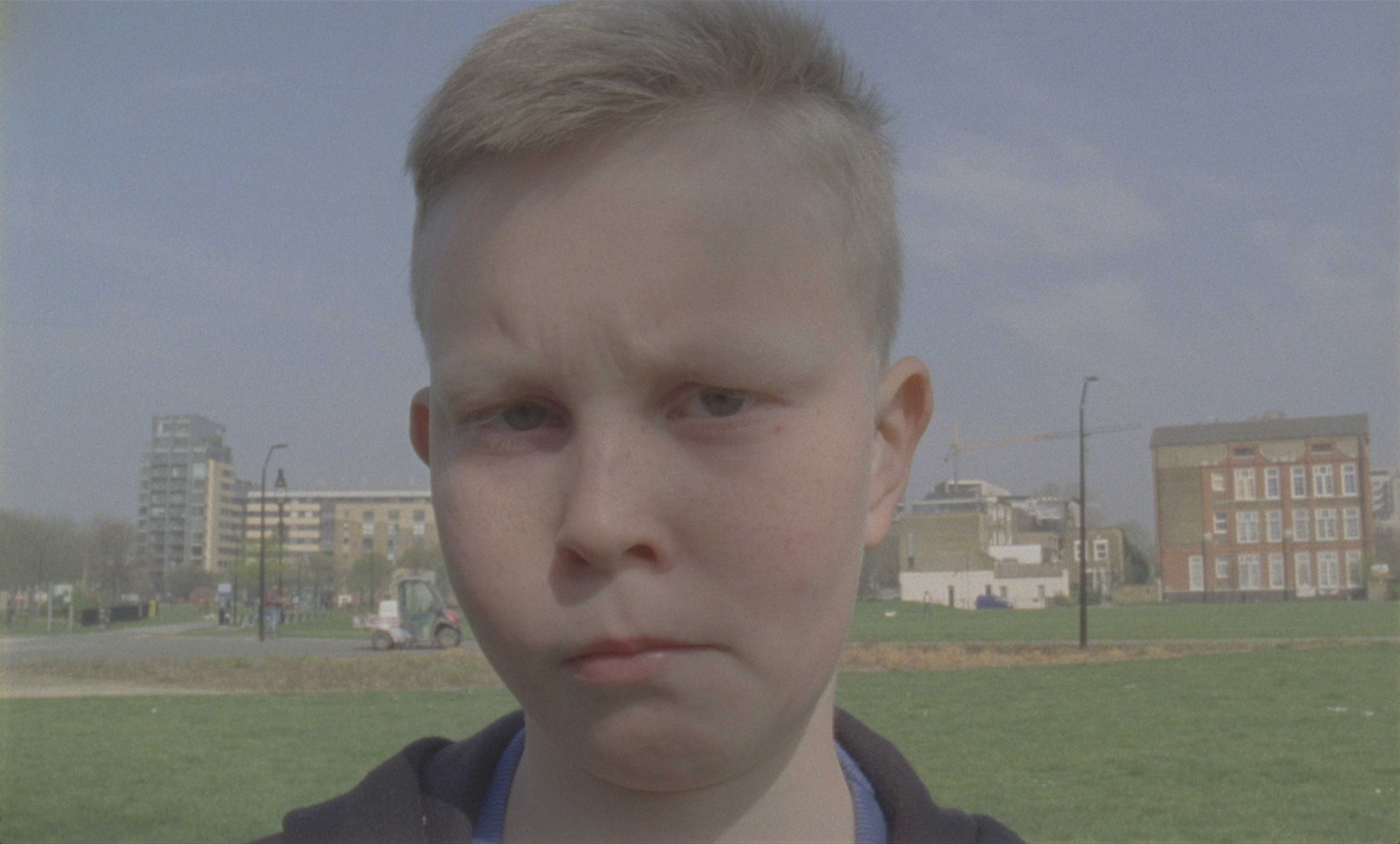 Solo for Rich Man, Filmstill
Like many of her works, Solo for Rich Man (2014) originated from a collaborative creative process, in this case a workshop that Gibson and the cellist-composer Anton Lukoszevieze ran with a group of children. The film takes as its departure point American author William Gaddis' epic modernist novel JR (1975). An eerily prescient, biting social satire, JR tells the story of a precocious eleven year-old capitalist who, with the unwitting help of his school's resident composer, inadvertently creates the single greatest virtual empire the world has seen, spun largely from the anonymity of the school's pay phone. Paralleling the educational environment in which JR unfolds, a large part of Solo for Rich Man is staged in an adventure playground in Shoreditch, East London. The playground, one of several in existence in London, was created in the 1970s in accordance with radical pedagogical ideas concerned with affording children the greatest possible freedom. Together with Lukoszevieze, who also appears in the film, Gibson and George – a participant in the workshop and the film's central character – conduct a series of individual scenes through which sound and image weave suggested narratives.
The Tiger's Mind is a crime thriller set against the backdrop of a Brutalist villa. In it, six characters – Tiger, Mind, Tree, Wind, Circle and a girl called Amy battle one another for the control over the film, which explores the unfolding of their relationships. The film's elements were produced by Alex Waterman as the Tree (the foley), Jesse Ash as the Wind (the special effects), John Tilbury as the Mind (the soundtrack), Céline Condorelli as the Tiger (the props), Will Holder as Amy (the narrator) and Beatrice Gibson as the Circle (the author). The film employs a character-driven improvisational score for a sexted, conceived by the British composer Cornelius Cardew and entitled The Tiger's Mind.Beatrice Gibson - Winner of 2015